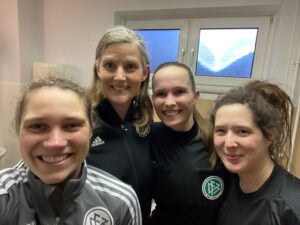 Eintracht top referee Celina Boehm officiated her first international match on February 21, 2022:
The U17 Girls teams from Germany and Denmark met in the Manfred Werner Stadium in Flensburg. At the end it was a clear 5-1 (4-0) for the German team coached by Friedrike Kromp.
The referee team (from left to right): Levke Scholz (Luebeck – 4th official), Sylvia Peters (Luebeck – referee assistant 1), Celina Boehm (referee) and Melina Willig (Benefeld – referee assistant 2) greets them in a happy mood from the dressing room in Flensburg.