Two SVE member Referee of the Year 2016!!!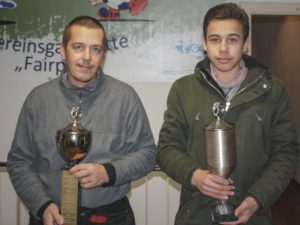 Fantastic success for two referees from the Hasenburg: Jan-Erik Ramm (15, category U18) and Christoph Ulinski (44, category 18+) were voted Lueneburg's referee of the year 2016 at the Christmas lecture evening.
Jan-Erik Ramm, who has only been a referee since February 2016, immediately stood out for his high level of commitment and motivation. He was quickly used as an assistant in the district league and soon took over junior games at the district level. In October 2016 Jan-Erik was appointed to the Lueneburg talent squad, which is led by former DFB referee Tobias Helwig (FC Heidetal) and junior Bundesliga assistant Louis Mourier (SV Eintracht Lueneburg).
Christoph Ulinski began his promising career in 1986 and was taken with him as an assistant up to the 4th division by the then Lueneburg Bundesliga referee Manfred Harder. However, he then decided to prefer to act as a player and coach. His career as a referee rested for almost 20 years until he felt like whistling again. After the restart in 2014, Christoph Ulinski quickly proved to be a motivated, level-headed and prudent umpire and was soon promoted to the highest league in the district (8th division) as a referee. Whenever the game is played, the referee committee is sure that the game will be in good hands. 30 more Christoph Ulinskis and the shortage of referees would come to an end!
SV Eintracht Lueneburg is proud of these excellent referees and wishes both of them a lot of fun and success with this hobby in the next years!
(December 3rd, 2016)