Referees wanted!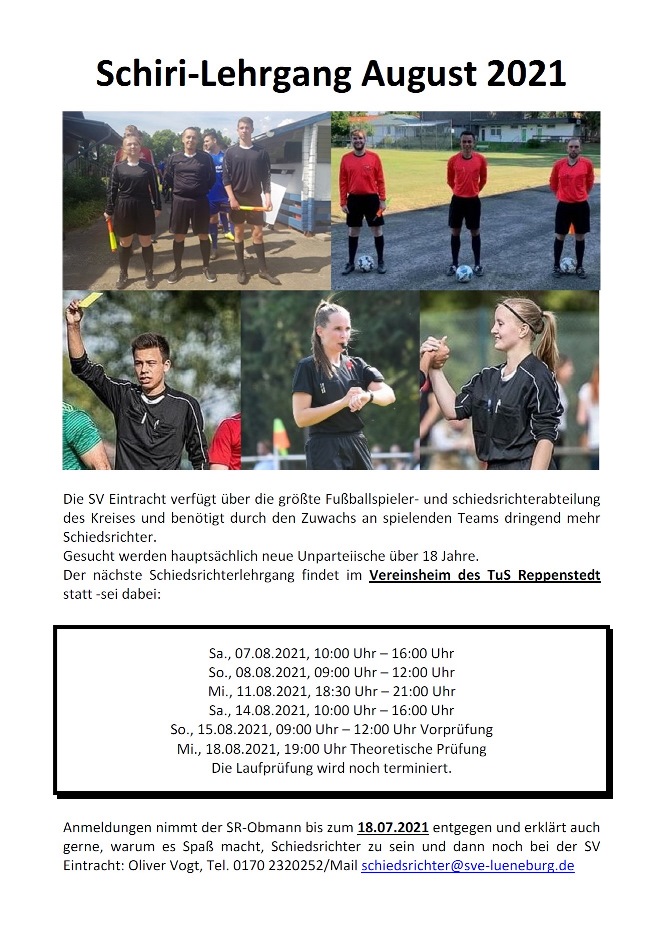 The current development of the soccer department is fantastic – meanwhile the largest soccer department in the city and even in the Heide-Wendland district, is at home on the Hasenburg at SV Eintracht Lueneburg.
There can never be enough coaches and supervisors, but if one is missing, the club won't be fined. This is different to the referees: due to the large number of newly registered SVE teams for the 2021/22 season and some cancellations of SVE referees, some of which are due to study, new football enthusiasts who are willing to attend a candidate course for SV Eintracht must urgently be found and then actually pick up the whistle. For each missing referee (a registered team up from U12 = 1 referee) the club has to pay a hefty fine – the money will then be missing elsewhere. We can prevent that!
The first major referee training course after the Corona break will start on August 7th – and that's almost in the neighborhood at TuS Reppenstedt. Anyone who is 14 years old at the start of the course is allowed to take part – since a distinction is not only made between youth and senior teams, but also between junior and senior referees, SV Eintracht is particularly looking for new referees over the age of 18.
The official invitation is HERE to be found.
If you are interested please contact referee chairman Oliver Vogt (+49 170 2320252 or email schiedsrichter@sve-lueneburg.de). He will be happy to answer questions about the course and about the referees in general.
The poster as a reminder for the pin board can be downloaded HERE.
Be a part of the SV Eintracht referees, led by DFB referee Celina Boehm and district league referee Jan-Erik Ramm – really a wonderful group!
(June 20th, 2021)