Referee Cup guest at the Club World Cup!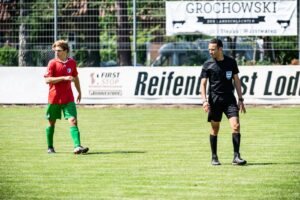 Kader Zitouni (Tahiti, photo), tournament referee visiting the 14th SV Eintracht Referee Cup in 2019, has now received a special honor: he was nominated for the Club World Cup, which took place from February, 1st to 11th 2021 in Qatar as a referee. He was used twice as the fourth official in the matches between Al Duhail SC (Qatar) vs. Al Ahly SC from Cairo (Egypt) and Al Duhail SC (Qatar) vs. Ulsan Hyundai FC (South Korea). The title went to the UEFA representative, the German champions FC Bayern Munich.
FIFA assistant Adia Cissé (Senegal) was also a guest at the Hasenburg in 2019 – she was nominated for the African men's U20 championship, which will take place in Mauritania from mid-February 2021.
Shortly before that in January, FIFA assistant Bernadettar Kwimbira (Malawi) was part of the first female referee team in Cameroon at the men's African Nations Championship, alongside Ledya Abebe (Ethiopia). She was a guest at the Hasenburg in 2017.
(February 02nd, 2021)