New member of the Heide Wendland Referee Committee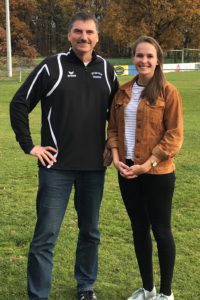 At the board meeting of the Heide-Wendland district on December 6th, two new members were provisionally included in the local referee committee.
In addition to 8th league referee Markus Schultz (MTV Treubund Lueneburg), who will be member of the appointment team, SVE top referee Celina Sophie Boehm (photo with local referee chairman Volker Leddin) will be the contact person for the local women referees. And the first major challenge has now been set: a referee course exclusively for new women and girls in May, for which the Women's Committee will postpone the weekend's matchdays. Good luck with the upcoming tasks!
(December 14th, 2018)