First Referee Cup sponsor!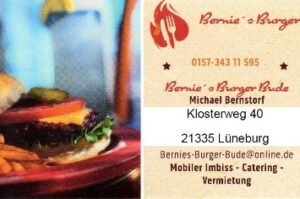 After long and tough negotiations ("Do you have some Euro for us?"), "Bernie's Burger Bude" from Lueneburg referee colleague Michael Bernstorf supports the Referee Cup. In the 90s, Michael himself was active as a referee at the tournament.
SV Eintracht thanks for the sponsorship and reveals that you can get his fantastic burgers at EDEKA Mues, Am Alten Landhaus in Deutsch Evern – every Friday from 12:00 p.m. – 7:00 p.m.!
(June 10th, 2020)