DFB Referee Course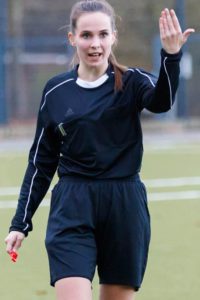 And the next good news from the hosts of the referee cup: SVE top referee Celina Boehm takes as a representative of the Lower Saxony Football Association from March 21st to 25th as referee at the DFB-U16 Girls National Cup in the academy Duisburg-Wedau. The 21-year-old student currently officiates matches in her three highest classes: in the U17 Girls Bundesliga, in the Women's Regionalliga (3rd League) and in the Men's District League (7th league). She is also on the road in the 2nd Women's Bundesliga as an assistant.
But first in Duisburg: good luck!
Special thanks go to Karsten Schulz from torknipser.de, who took the photo at the 3rd league match Bramfelder SV vs. SV Meppen II!
(March 12th, 2018)